SYSTRAN Upgrades
Systran can produce high quality translations of your texts, emails, documents, Web pages, and all other information that you need to translate.
What's Different in the New Version 8?
SYSTRAN Desktop Version 8
SYSTRAN 8 now features two desktop products SYSTRAN Essentials and SYSTRAN Professional. Both are designed for consumer and small business use. The desktop version uses our older "rules based translation engine" which delivers a gisting level translation. Version 8 definitley has improved accuracy in all languages. This version is perfect for those that need occasional translations.
See our SYSTRAN Desktop Products: SYSTRAN Essentials / SYSTRAN Professional
SYSTRAN Enterprise Version 8 - New Pure Neural - Human Quality Accuracy
SYSTRAN Enterprise is designed for companies that require more accurate translations. SYSTRAN has released the world's first Pure Neural Machine Translation engine that is delivering accuracy that is compareable to human translators.
The Enterprise edtion offers the choice of four SYSTRAN translation engines, "rules-based, statistical, hybrid and the new Pure Neural. Learn more about this new technology that has changed the translation industry forever!
Learn more about SYSTRAN's Pure Neural MT using Artificial Intelligence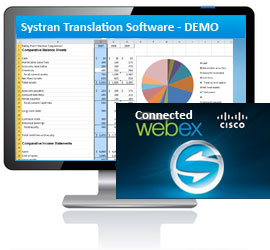 Schedule a Free Demo Session to see the software in action!
See the actual SYSTRAN software in action! With an interactive 1-on-1 demo session, or webinar session you can watch a professional Systran Traininer via one of our popular desktop sharing tools, WebEx or JoinMe. The demos can last anywhere from 10 minutes to 1 hour.