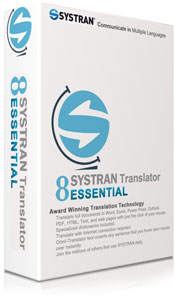 Translate Spanish to English and English to Spanish
Note: The Essentials only translates Castillian Spanish (Spain) dialect, the SYSTRAN Professional gives you both Castillian and International Spanish (for Mexican, Latin American and more).
SYSTRAN Essentials is perfect for the personal user who needs to communicate in foreign languages.
Full Product Information: See Features & System Requirements
ADD Additional Language Pairs, add as many as you like. Each Language Pair is an additional $19.00
What Is Extended Download Service?
Extended Download Service is a feature, in which we will automatically store on our server a back-up copy of the software that you purchased and downloaded in your order for two (5) years from the date of purchase. You can re-download your purchase anytime during your extended protection period. This will be helpful if you have changed your PC / Laptop / hard drive due to which the installed software might get lost.