Spanish Translation Software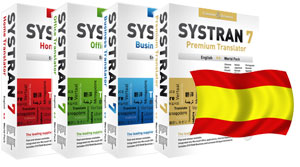 Systran's Best Selling Spanish translation software can help you translate Spanish to English and English to Spanish documents in a matter of seconds and with the highest level of accuracy available in any translating software.
Systran provides only superior translation software which means you can convert documents as you type and the result is an accurate, fluid and easy to read text. Excellent for those learning the Spanish language or those looking for a simple solution to translate Spanish documents instantly!
Our Spanish translation software is affordable no matter your budget. So, if you're looking for an easy to use, accurate and low price solution to translate Spanish documents, take a look at our packages below.
Choose the Spanish Translation software package that best meets your needs and start using it today! If you are having trouble deciding or require help using our translation software, feel free to contact us anytime. We're more than happy to help.

Home / Personal

Systran Home
(English to / from Spanish)

Perfect for smaller amounts of text. This cut and paste translation tool translates up to 10 pages of text. Ideal for home and personal use.

Sale Prices start at: $89.00


Personal / Small Business
Systran Office Translator
(English to / from Spanish)

Systran Office Spanish Translation software translates up to 20 page documents inside Microsoft Office. To translate faster, use our Interactive Translator feature that translates as you type. Translator for MS Word, Excel, Power Point and Outlook Email. (note: This version does not support PDF's)

Sale Prices start at: $179.00

Small to Medium Business

Systran Business Translator (Full Version)
(English to / from Spanish)

Professional level Spanish translation with advanced tools for more accurate results.

Systran Professional Standard translates large documents in Systran Project Manager or from your Microsoft Office program with plugins for Word, Outlook Email, Excel, and Power Point files.

Support for PDF conversion allows you to translate Spanish or English PDF Files easily. Translate additional file formats including: TXT, RTF, and HTML Files. Create additional Dictionary with up to 10,000 entries. Display of alternate meanings in both Spanish and English, grammar and spell check tools.

Sale Prices start at: $299.00


Medium to Large Business

Systran Premium Translator (Full Version)
(English to / from Spanish)

With the Professional Premium Spanish Translation software you can reach the highest level of accuracy. This package includes all the features found in the Professional Standard version plus a lot of advanced expert level tools to train the software for increased productivity and accuracy.

Systran Professional Premium translates larger documents, with batch translation capabilities. You can translate in the Systran Project Manager or Microsoft Office, support for Word, Outlook Email, Excel, and Power Point files.

Convert PDF files for translation. Translation of additional file formats such as: TXT, RTF, DOC and HTML Files.

Includes 21 additional dictionaries - industry specific dictionaries filled with million additional terms and expressions that produce even more accurate translations due to the larger dictionaries.

Build Additional Dictionaries - up to 20,000 entries. Direct export of words to your dictionary and build one dictionary for all languages.

Translation Memory - Many translation agencies and translators use memory tools to increase productivity. This professional tool allows you to train the software to learn complete sentences. This tool can dramatically increase the accuracy of results. Add up to 40,000 entries.

Sale Prices start at:: $749.00


Client / Server - Network Solutions

Systran Enterprise Network Solutions for Client / Server
(Translate English to / From Spanish)

Two products available for a corporate Spanish Translation solution. Systran Enterprise Online Translation Tools (web based) and Systran Application Packs (Client / Server)


Website Translation

Systran Links
(Translate English to / From Spanish)

Translate your web site to Spanish or English on the fly for your visitors. SYSTRAN Links is a turnkey web site translation solution. By adding simple code to your web site you can perform an English or a Spanish translation within seconds. SYSTRAN Links transforms standard web sites and content applications into interactive multilingual hubs so these can be enjoyed worldwide.

Translate English/Spanish Email, Word Documents, Text, Web pages, Files, Chat, Correspondence, Power Point, Excel, and more with just the click of your mouse. Systran's Spanish translation software allows you to translate documents, thereby saving you time and money. You will require the services of a human translator only for increased accuracy of crucial documents.
With Our Spanish Translation Software you can: (Features vary by product)

Translate Spanish Email
Translate Web Pages
Translation of complete websites

Translate Spanish Word Documents
Translation of PDF Files
Translate RTF, TXT & DOC

Translate Excel
Translate Power point
Translation for MSN, Yahoo Chat
Learning Center: Spanish Language Translation Software - Help in Spanish to English plus English to Spanish translation.