Systran Premium Translator





NOW ON SALE
Price Range: $749 - $899
(Depending upon Language Selected)

Languages Available

English

Spanish

French

German

Italian

Portuguese

Dutch

Swedish

Russian

Korean

Japanese

Polish

Chinese

Arabic


Also See: Home Translator || Office Translator || Business Translator


Product Features
Systran Premium is the most professional translation software on the market today, used by everyone, from personal users to professional translators. Companies have come to depend on Systran technology to save millions of dollars in translation costs.
This professional level software delivers higher accuracy than our SYSTRAN Home, Office or Business versions due to the additional 20 dictionaries with millions of additional terms and translated expressions. The Premium version gives you professional tools that are unparalleled in industry which allow you to train the software both manually and automatically to achieve the higher accuracy.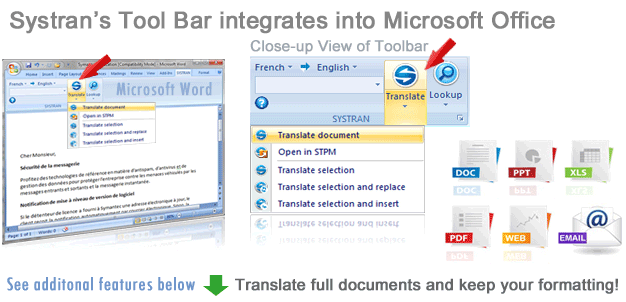 Translate Full Documents from Microsoft Office

[Unlimited Size Documents]
Open your documents in Word, Excel, Powerpoint or Outlook and instantly translate complete documents, presentations, e-mail or any text file. Systran automatically integrates into Microsoft Office making it easy to translate documents without having to learn new software.
Instantly translate documents directly from Word, Excel, PowerPoint and Outlook E-Mail
Translate in 3 Easy Steps,

Step 1: Open an existing document or create a new one.
Step 2: Select Language Pair from the list on the tool bar.
Step 3: Click Translate and it translates the entire document.

Translate full documents without size or page limitations
Retain the original documents layout and formatting even after translation
Side by Side document alignment for easy proofing (see Project Manager)
---
Interactive Translator and Dictionary
Smart and always available SYSTRAN Interactive Translator translates text anytime and anywhere. Excellent for quick communication with instant interactive access to all dictionaries in the software.

Instant Communication Tool
Translate as you type or copy and paste text
Side by Side alignment with word highlighting
Choose alternative meanings for words from dictionary
NEW! Smart Dictionary Lookup provides instant access to SYSTRAN, Larousse and your custom dictionaries
---
Retain The Document's Formatting

Powerful format retention tools automatically keep your document's original formatting even after translation. SYSTRAN seamlessly integrates into your favorite programs making it easy to keep the layout and design of a document during the translation process.
Translates the text around your images, keeps your tables, text formatting, even in programs as complex as Word, Excel and Powerpoint. HTML files can be converted to and from foreign languages while maintaining the integrity of your link structure.
The normal translation process will either expand or contract the amount of text but much of this is still retained if the original document has standard formatting. Foreign language accents will be also be properly displayed.

---
Translate PDF Files / Documents

PDF files are the most popular format used in the business world today. With Systran you can translate your PDF files and retain the formatting on many of your documents. Files will be converted to RTF (Rich Text Format) for easy viewing in Microsoft Word.
Translate PDF files in 3 easy steps!
Instantly Translate Full PDF Documents
Side by Side alignment of Documents for easy proofing (Project Manager)
Choose to translate files with Quick File Translator or through the Project Manager

* PDF files must be editable (contain text). A PDF that contains non-Western character sets, proprietary fonts, or script languages such as Asian, Russian or Arabic will need to be OCR'd before translation.
---
Quick File Translator Translates Many File Formats

Translate a variety of document formats with the improved Systran Quick File Translator. Find any supported file on your computer and choose translate from the menu and instantly your document is translated and automatically saved on your computer. New Support for OpenOffice documents (ODT, ODS, ODP)
Word, Excel, Powerpoint, Outlook, Open Office (ODT, ODS, ODP) HTML, XML, RTF, TXT, XML










---
Translate E-mail / Incoming and Outgoing


Three different options to translate your e-mail. No matter what option you choose, you will find communication is easy and fast. Maintain your originals in Outlook for incoming and outgoing e-mail. Automatic banner between the translations alert your audience that the documents are translated using software.
Full E-mail Translation with Outlook and retain original thread

Translate any Web Based, Gmail, Yahoo, AOL with the Copy / Paste feature
Use Interactive Translator for E-mail to get the most accuracy with the dictionaries
---
Translate the Web pages as you Surf the Web


Surfing the web in foreign languages is easy with SYSTRAN. Visit any website and change it to your native language with the SYSTRAN buttons that are automatically installed in your browser. Compare the original page and the translated page for easier navigation.
Excellent for doing research or learning a new language!

Translate Your Website for Visitors in HMTL / XML / PHP /

Translating your website has never been easier. Import your entire website and in the Project Manager with one click. Edit and proofing tools allow you to save sections with the Document Aligner to store the changes in Translation Memory. This feature means you can edit and proof sections of your site and never worry about re-translating text when the pages are updated.
Translate Full Websites with Batch Translation Tools
Maintain the link structure while translating the text in the links
Excellent for Search Engine Optimization by offering a website in foreign languages
---
Systran Customization Wizard - Automatic Dictionary Builder

Now you can automatically teach your software specific terminology that will increase the accuracy. By using Systran's statistical model technology you can point your software to a folder on your computer and have it scan the documents and automatically create dictionary entries.
SYSTRAN's smart technology enables the software to become more accurate as you use the software.
---
NEW! SYSTRAN Document Aligner - Instantly Create Translation Memory

Reuse any previously translated text instantly! Take a document that is available in the original (source language) and the translated (target language) document that has either been translated by a human or proofed for 100% accuracy and feed it into the document aligner and the software will store every sentence in the SYSTRAN Translation Memory.
Translate any future document and the software will pull the translations from the translation memory. Excellent for any documents that may use repetitive text.
Example, take a document that is available in both English and a foreign language and the software will create a translation memory from it automatically!
Aligns files in many formats (.txt, .rtf, .htm, .html, .doc, .docx, .xlsx, .pptx, . odt, .ods, .odp, .pdf, .xml)
Compare sentences side by side with the powerful Statistical Translation tools
Fine-tune the quality of Translation Memories using Advanced Document Alignment Options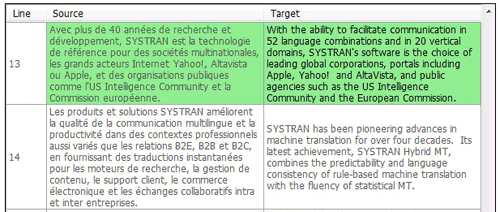 Award Winning Feature
Simply point the software to an original and a proofed translated document and the software begins by extracting sentences from both the source and target files, working to automatically detect the language for the files if it is unspecified. Next, SYSTRAN Document Aligner will try to align the source language sentences with the target language sentences.
Had a translator translate documents for you in the past? Now you can reuse the translations without paying for services again for the same text to be translated. Save time and money by reusing translations.
---
Premium
Includes

20 Additional Dictionaries with Millions of Entries

Systran Premium Translator includes 20 Industry Specific Terminology Dictionaries
Specialized dictionaries/domains help you achieve high translation quality in many different industries with millions of additional terms.
Business Dictionaries

Economics/Business
Legal / Law
Political Science


Colloquial Dictionary

Colloquial (Conversational)


Common Expressions
Specific Industries

Automotive
Aviation/Space
Military Science
Naval/Maritime
Metallurgy

Life Science Dictionaries

Life Sciences
Earth Sciences
Medicine
Food Science


Technology related

Computers / Software / Data Processing
Electronics
Mathematics
Mechanical/Engineering
Photography/Optics
Physics/Atomic Energy
Chemistry
---
Build Additional Custom Dictionaries


The real power of using translation software is the ability to automate the process. One of the most powerful tools is the ability to create additional dictionaries to control the translations.
With Systran Premium you can build three types of dictionaries that will handle everything from single word entries to acronyms, to long phrases and full sentences.
Train the software to learn your style of writing and terminology reducing the amount of time it takes to proof translated documents.
User Dictionary
Build additional dictionaries to customize the software to understand your specific terminology
Add up to 10 Dictionaries with 20,000 entries per language pair (words or phrases)

Extract terms automatically from documents to create a list of words that need to be added to a dictionary
Create Dictionaries automatically with Systran Customization Wizard
Easily mark specific words as DNT (Do Not Translate)
Multi-target dictionary builder lets you build one dictionary for all languages
Normalization Dictionary
Add up to 10 Dictionaries with 20,000 entries per language pair
Excellent for Acronyms and Abbreviations
Normalize Text for Consistency (color vs colour spelling)
Translation Memory
Translation memory is powerful translation dictionary that stores previously translated sentences that you can reused with 100% translation accuracy. With the new Systran Document Aligner you can now build a translation memory automatically.
New

Automatically Build Translation Memory with Document Aligner
Add up to 40,000 entries per language
Support for industry standard TMX file format for easy import or export
Retranslate documents with out proofing older sections
Excellent for any type of repetitive text (example, forms, training materials)
Reuse of previous translations and stored language data boosts productivity
---
Project Manager - Side by Side Alignment for Easy Proofing and Editing / Batch Translation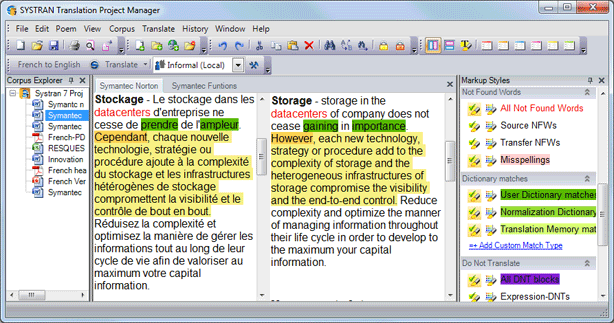 Additional translator tools in our Translation Project manager allows you to use additional editing tools that can perform analysis on the text during the translation process giving you more control over the translation accuracy and results.
Complete control over your translation projects with the Project Manager.
Easy to use interface makes translating and proofing documents fast .
Perfect word and sentence alignment makes editing easy.
Prints source and target translations of paragraphs and sentences in horizontal or vertical display modes
Translate multiple documents with easy to use batching tools.
Color coding high lighters make proofing faster and easier.
Display alternative translations for words with the ability to click your choice.
Edit directly on the documents with the easy side-by-side alignment.
Automatically generates a list of extracted terms that need to be added to your own dictionary.
Train the software to learn your style of writing and terminology reducing the amount of time it takes to proof translated documents.
Analysis Tools
---
New Features to Improve Accuracy

Systran's innovative new Hybrid Translation engine is has taken a bold step forward in the development of translation technology by providing the flexibility of statistical translation technology and the reliability of rule based technology.
NEW! Smart Dictionary Lookup provides instant access to SYSTRAN, Larousse, Chambers and your dictionaries
Display of Alternative Meanings (click to choose and it remembers your choice)
Improved Spell checking with suggested spelling
Improved accuracy of translations as Systran's Smart Technology automatically learns as you use the software
Optional - Do Not Translate Capitalized Words
Imperative choice (infinitive, polite, ...)
Personal pronoun definition (formality, gender, ...)
Display alternate meanings of words to choose the correct usage
Automatic dictionary updates, when our dictionary increases it is automatically added to yours
---
Multi Translate Utility (Batch File Translation)

The ability to translate multiple documents extends productivity level to the maximum. Quickly group and manage multiple translations simultaneously.
SYSTRAN Multi Translate Utility (SMTU) is designed for users who perform a large number of translations. Using SMTU, you can place documents into groups (or batches) and translate them in one operation.
As shown, you can prioritize the order in which files are translated, specify destination file locations for the translated files, as well as other processing options at one time with SYSTRAN Multi Translate Utility.
---
Multi-Target Dictionary Builder

Simplify building your custom dictionary. Create one custom dictionary for all languages. If you are translating documents into more than language this feature will eliminate the need to create a separate custom dictionary for each language.
Example, add a word to your custom dictionary and you have separate columns for the the translation of this word in Spanish, French, German, Japanese etc.
---
---
SYSTEM REQUIREMENTS

CPU
PC with Intel® Pentium® 1.2 GHz processor, or equivalent AMD® processor, or higher
Operating System
Microsoft® Windows (32- or 64-bit OS) XP, Vista™, Windows 7, New Windows 8
Ram
Minimum 1GB RAM (Windows XP), 2 GB RAM (higher Windows versions)
Microsoft Office
Microsoft® Office® (32 bit) XP, 2003, 2007, 2010, New 2013
Hard Drive Space

300 MB for base software
100 MB per language pair
500 MB available free space during installation plus additional space as needed to unzip downloaded product

Web Browser

Microsoft® Internet Explorer® 7.0 or later, or Mozilla® Firefox® 4.x or later
Note: Performance and speed will be enhanced if your computer's processor, memory, and available disk space exceed minimum requirements

Systran can translate documents at speeds exceeding 800 pages per hour.