SYSTRAN HOME TRANSLATOR
NOW ON SALE
Price Range: $89 - $119
(Depending upon Language Selected)

Languages Available

English

Spanish

French

German

Italian

Portuguese

Dutch

Swedish

Russian

Korean

Japanese

Polish

Chinese

Arabic

Also See: Office Translator || Business Translator || Premium Translator



Systran is the leader in the development of language translation software!
A simple cost-effective machine translation software product. Systran is designed for personal users that want to instantly translate and understand Word documents, Web pages, or any type of text document. SYSTRAN makes communicating in multiple languages easy. It automatically learns new terminology to improve the quality of your translations.
Translate Word Documents

Translate full documents (10 page document size limit) with just a click. (support for .doc, .docx, .txt, .rtf)


Additional controls allow you to translate specific words, sentences or paragraphs. You can replace or insert the translated text below the original one. (Great for proofing.)


Translate documents that include special formatting, tables, or images without changing the original layout.


Direct access to the dictionaries allows you to look up words from MS Word.

---

Retain The Document's Formatting

Powerful format retention tools automatically keep your document's original formatting even after translation. SYSTRAN seamlessly integrates into your favorite programs making it easy to keep the layout and design of a document during the translation process.

Translates the text around your images, keeps your tables, text formatting, even in programs as complex as Word, Excel and Powerpoint. HTML files can be converted to and from foreign languages while maintaining the integrity of your link structure.

The normal translation process will either expand or contract the amount of text but much of this is still retained if the original document has standard formatting. Foreign language accents will be also be properly displayed.

Learn how to translate Word documents.

Translate Documents with Systran

Video Note: Home Version can only translate documents up to 10 Pages at a time.
---
Interactive Translator and Dictionary
Smart and always available SYSTRAN Interactive Translator translates text anytime and anywhere. Excellent for quick communication with instant interactive access to all dictionaries in the software.

Instant Communication Tool
Translate as you type or copy and paste text
Side by Side alignment with word highlighting
Choose alternative meanings for words from dictionary




---

Translate the Web pages as you Surf the Web

Surfing the web in foreign languages is easy with SYSTRAN. Visit any website and change it to your native language with the SYSTRAN buttons that are automatically installed in your browser. Compare the original page and the translated page for easier navigation.

Excellent for doing research or learning a new language!

---


For more Accurate translation consider Systran Business Translator or Systran Premium Translator




SYSTEM REQUIREMENTS

CPU
PC with Intel® Pentium® 1.2 GHz processor, or equivalent AMD® processor, or higher
Operating System
Microsoft® Windows (32- or 64-bit OS) XP, Vista™, Windows 7, New Windows 8
Ram
Minimum 1GB RAM (Windows XP), 2 GB RAM (higher Windows versions)
Microsoft Office
Microsoft® Office® (32 bit) XP, 2003, 2007, 2010, New 2013
Hard Drive Space

300 MB for base software
100 MB per language pair
500 MB available free space during installation plus additional space as needed to unzip downloaded product

Web Browser

Microsoft® Internet Explorer® 7.0 or later, or Mozilla® Firefox® 4.x or later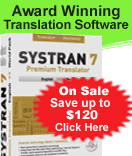 Largest Dictionaries with easy to see Alternative Meanings for Words!
---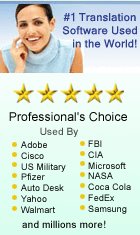 ---

Buy and
Download
Instantly!
Purchase and start converting your documents in minutes! If you order the software on CD/DVD, we ship same day!
Translation Memory Tools The new features in the latest Version are awesome! Perfect for Translators.
Susan Richards

Impressive Software
This software has saved us thousands of dollars in translation costs! I will be recommending you and your products others! Tom Landon



Systran Reviews