Multilingual Keyboard layout: Typing in Foreign Languages
How to Type Foreign Language Accents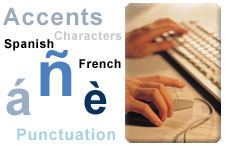 If you need to type foreign language characters on your keyboard there are a couple of options you can choose.
Punctuation and accents on a few letters can be done with Ascii characters by typing in different combinations on your keypad. This Foreign Language Character chart will show you how.
Foreign characters, including punctuation and accents can also be typed in by changing the keyboard layout in Microsoft Windows. For example, you can choose the Spanish language options and type Spanish accents on your regular keyboard. You can also set it up to where there is an icon on your desktop that allows you to toggle back and forth from your Spanish keyboard to your English.
CHANGE TO FOREIGN LANGUAGE KEYBOARD IN WINDOWS
Microsoft Windows has built in support for foreign language keyboard layouts. You can go to your control panel, choose keyboard icon and add the language you need to type in. You will be asked to insert your windows installation CD-ROM. Afterwards you will be able to change from Spanish to English or visa-versa very easily. Below is the link to Microsoft help area that will walk you through the set up.
Windows Keyboard Characters - How to Change Layout
Spanish Keyboard layout - Spanish Keyboard layout allows you to type in Spanish.
Foreign Language Keyboard Layout - Shows you how to change your keyboard layout in Windows. You can do more research but here is the place to start .
Icon to change keyboard layout - After you change you keyboard so you can type in a foreign language you will probably want to set up menu or icon so you can go back and forth quickly from English to your foreign language keyboard layout.
Type Spanish Characters on Keyboard
Example - highlighted keys show the Spanish keyboard characters

Note: If you change your keyboard we sell keyboard overlay stickers and keyboards for many languages.
French Characters on Keyboard
French computer keyboards