SYSTRAN Upgrades
Systran can produce high quality translations of your texts, emails, documents, Web pages, and all other information that you need to translate.
SYSTRAN features a new Hybrid translation technology that actually acquires knowledge and improves as you translate documents. The software can adapt translations by automatically learning from your texts, documents and emails. The more you use SYSTRAN's new software, the smarter they get. Making it much easier for you to keep pace with all your translation needs. The new SYSTRAN software can help you:
Instantly translate foreign language information
Improve the translation accuracy of your documents
Reduce the time it takes to post-edit translations
If you're an existing SYSTRAN customer, now is the time to upgrade to the new version. From improved accuracy, to a smart user interface, powerful new automated customization tools, larger dictionaries, and new alternative meanings selections. SYSTRAN once again raises the bar on translation technology, translate information anytime, anywhere!
Home Translator - Upgrade
Save 50% Off Full Version

Requires Previous Version

Product
Price

Purchase
Home World Language Pack
$129.00
$64.50
Home European Language Pack
$129.00
$49.50
Home Asian Language Pack
$129.00
$49.50
Office Translator- Upgrade
Save 50% Off Full Version

Requires Previous Version

Product
Price

Purchase
Office World Language Pack
$249.00
$124.50
Office European Language Pack
$199.00
$99.50
Office - Asian Language Pack
$199.00
$99.50


Business Translator - Upgrade
Save 50% off Full Version

Requires Previous Version

Product
Price

Purchase
Business World Language Pack
$449.00
$224.50
Business European Language Pack
$399.00
$199.50
Business Asian Language Pack
$399.00
$199.50
Business - Single Language
(Choose Language on next page)
$299.00
$149.50


Premium Translator - Upgrade
Save 50% off Full Version

Requires Previous Version

Product
Price

Purchase
Premium World Language Pack
$999.00
$499.50
Premium European Language Pack
$899.00
$449.50
Premium Asian Language Pack
$899.00
$449.50
Premium - Single Language
(Choose Language on next page)
$749.00
$374.50
What's New in the SYSTRAN Upgrade
New! Higher Accuracy for All Language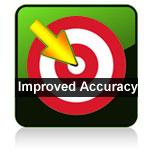 Systran releases the new upgraded version with an improvement in the accuracy level of all the languages. Additional terminology, linguistic rules and dictionaries have been added.
The new version also gives the user access to automatic tools that will continue to improve the accuracy as the software is utilized. With the new Customization Wizard the software automatically creates dictionaries. Now that's a powerful feature!
New

Interactive Translator (All versions)

The new Interactive Translator is an improved version of the Systran Toolbar. You can still translate as you type but now you have an additional window on the right side that allows you to see the individual words from the dictionary. The dictionary displays alternative meanings for words and allows you to click on a word choice for future use.
Redesigned easier to use buttons
Translate as you Type for instant translations
Display alternative meanings of words
Part of speech is displayed with pronounciation guide
Hover over a word to see dictionary Entries
Add dictionary entries directly from the Interactive Translator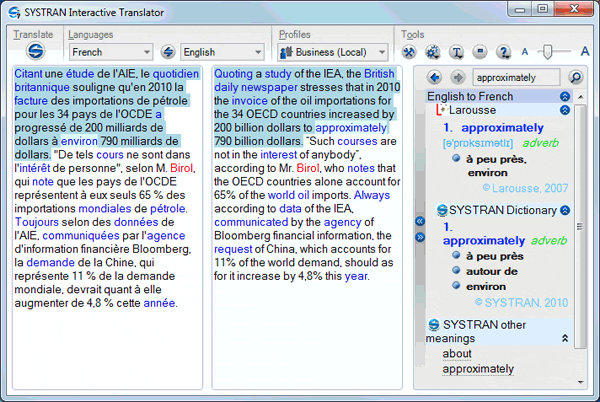 NEW! Improved Document Formatting (All Versions)

Systran has always been able to retain your document's formatting but now the tools are even more powerful in this new version. Systran is designed to handle the new layout features that are available in the latest Microsoft Office products. Now you can translate your Microsoft Word, Excel, Powerpoint, and Outlook documents with more confidence.
NEW! Improved PDF Converter (Business and Premium Only)


Translating PDF documents is an everyday task for most companies. This new version translated and converts your documents faster and maintains the formatting better than ever. Translated PDF files are converted to RTF.
PDF translation only supports edit able PDF files. Some PDF files that contain non-Western character sets such as Russian, Arabic and Asian characters will need to be run through OCR software and converted to Text.
NEW! Support of Additional File Formats (All Versions)


OpenOffice is one of the most popular open source software applications on the market today. OpenOffice is also the most requested file format that users would like be able to translate with Systran. Now with Systran 7.0 support for these formats have been added, you can use the Quick File Translator to instantly translate your documents.
Translate OpenOffice documents: texts, spreadsheets and presentations with SYSTRAN Quick File Translator
More import and export formats are now available for dictionary exchange to improve reuse of existing terminology and integration with other tools
New! Customization Wizard (Business and Premium)
One of the most powerful features in translation software is the ability to add your own terminology to a custom dictionary. To make the job easier, the software can now build additional dictionaries automatically. Just point the software to a folder on your hard drive that contains documents that are related to your subject and it will extract terms and add them to the dictionary automatically.
Although SYSTRAN Customization Wizard is fully functional in all SYSTRAN Desktop 7 products, the number of allowed user configurations differs according to the product you have installed. Refer to the SYSTRAN Desktop 7 Products Comparison for more information.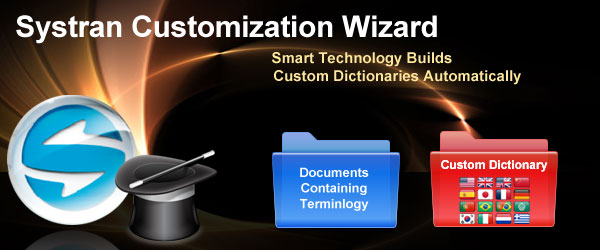 NEW! Tools for Translation and Customization!
SYSTRAN Customization makes it easier to build dictionaries by giving you automatic choices for words. Select a word from a list of alternative meanings, click on your choice and the software remembers your preferences.
NEW! Improved Dictionary Manager (Business and Premium)
Now it is easier to build your dictionaries from using the alternative dictionary feature. Hover over a word and the software will let you select which term you would like to use for the translation. Excellent to help resolve ambiguities.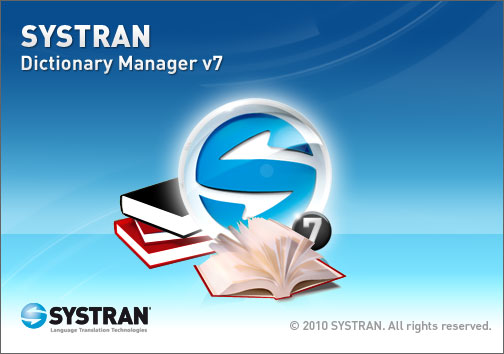 New! SYSTRAN Document Aligner (Premium Only)


Award Winning Feature


The most powerful tool for translation software is translation memory, the ability to reuse pretranslated and proofed sentences. With the new SYSTRAN Document Aligner the software can build it's own translation memory automatically.
Simply point the software to an original and a proofed translated document and the software begins by extracting sentences from both the source and target files, working to automatically detect the language for the files if it is unspecified. Next, SYSTRAN Document Aligner will try to align the source language sentences with the target language sentences.
Had a translator translate documents for you in the past? Now you can reuse the translations without paying for services again!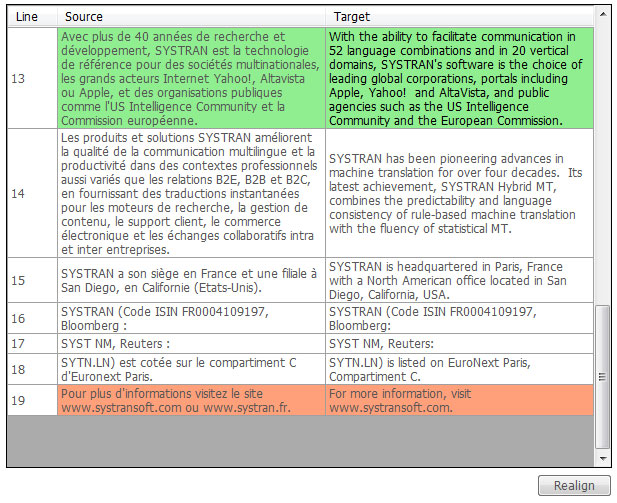 NEW! Translate Online with SYSTRAN 7! (All Versions)
Now you can translate online with SYSTRAN Desktop 7 products while connected to the Internet All you need is a valid SYSTRAN account which you set up when registering your Desktop 7 product and a subscription to SYSTRANet online translation service.