SYSTRAN Pure Neural SERVER - On Premise
Neural Machine Translation Solutions for Secure Communication & Global Collaboration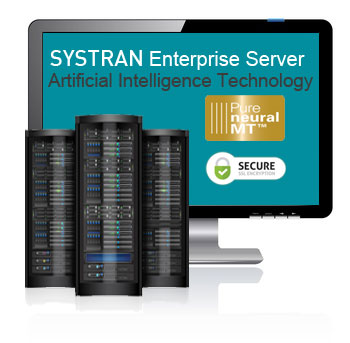 SYSTRAN Pure Neural® Server, our state-of-the-art translation technology tailored for businesses, delivers quality, fast, and secure translations using Neural Networks and Artificial Intelligence.
The best translation quality on the market, closer than ever to human fluency and easily adapted to the specific contexts of each customer, ranging from the legal and automotive industry to IT, banking and healthcare.
We can  help you reduce your translation costs dramatically by automating the process, giving you the tools needed to reach the global market.
Introducing SYSTRAN Server
SYSTRAN Pure Neural® Server is our new generation of enterprise translation software based on Artificial Intelligence and Neural networks.
Our latest engines are developed with OpenNMT-tf, our AI framework using the latest TensorFlow features, and backed by a proprietary new training process: Infinite Training.
These innovations provide higher translation accuracy,  and utilize SAT (Self Attentional Transformers) neural networks that improve a contextual translation for better quality & fluency.
Our Deep Learning technology enables the Pure Neural MT™  engine to learn, generate the rules of a language from a given translated text and produce high quality translations with proper grammar.
Our Neural Network Knows Syntax
During the training process, SYSTRAN has trained the neural networks about morphology, part of speech tagging and syntactic analysis. Support for masculine, feminine, singular, plural, verb tenses, etc.
Translation speed is 15 to 30 times faster on CPU hardware in the 2nd generation than first generation NMT engines. Expect to see further gains in performance with subsequent generations.
SYSTRAN's Proprietary Resources
Our Neural MT engines have already been trained with our comprehensive User Dictionaries from our current technologies so that when it encounters an entry in a translation task, it knows what to do.
Ai Models to Improve Accuracy
With SYSTRAN's Model Studio you can easily create your own custom model to improve accuracy or choose from existing models developed by professional translators in the SYSTRAN Marketplace.
Add your own terminology to a User Dictionary and it automatically handles pluralization, inflection and more. The technology goes beyond a simple find and replace that other systems currently use.
SYSTRAN is designed to allow you to translate full documents while retaining the original format. Translate entire documents in Word, Excel, PowerPoint, PDF, Email and more.
The built in PDF Converter and OCR software gives you the ability to translate scanned documents in just one easy step.
Translating is easy with SYSTRAN, no complicated software to learn, just point and click.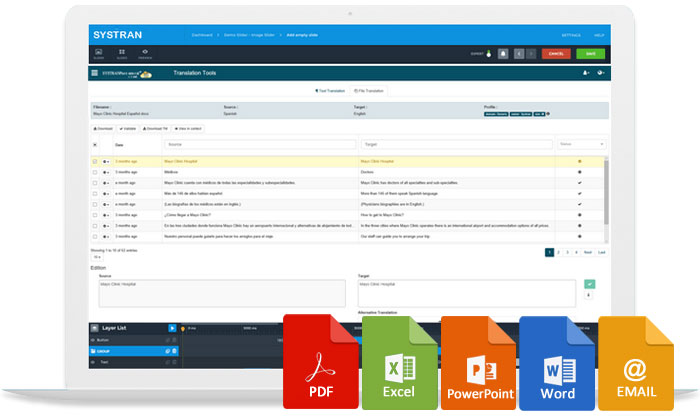 Advanced Review & Editing Tools
Powerful editing and proofing tools allow you to see the original and the translation results side by side. Perfect for both bilingual and non bilingual users because the original word(s) can be easily identified.
Easily approve the translation or make changes and instantly advance to the next sentence for review.
The software can remember your changes, which can be stored and exported into a translation memory to be used on future translations.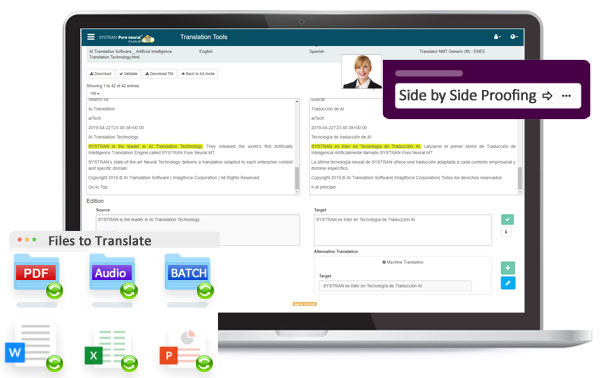 Build Additional Dictionaries
Being able to build additional dictionaries has always been one of the advantages of using SYSTRAN technology. Users don't have to be linguists to create dictionaries, the coding engine handles everything and does the work for you.
SYSTRAN's translation engine understands morphology, part of speech tagging and syntactic analysis. The technology is powerful and goes beyond a simple find and replace.
Inflect words (morphology support: masculine, feminine, singular, plural, verb tenses, etc.)

 

Determine the correct part of speech (homograph support: for our purposes this is a word with more than one part of speech)

 

Select the proper determiner or the appropriate agreement between a noun and its modifying adjective or a verb and its subject

 

Do Not Translate (DNT) – Easily set specific words or phrases as "do not translate"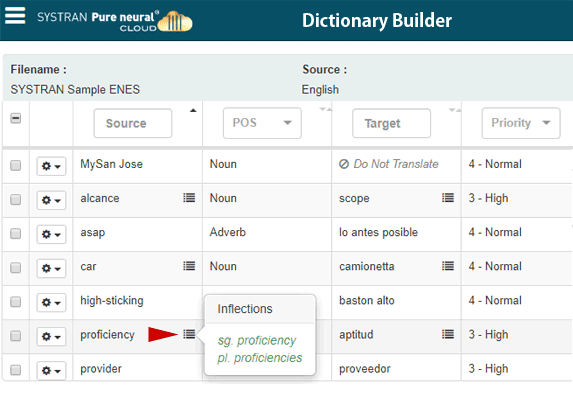 Getting Higher Accuracy with Specialized Models
Our core translation engine is trained on generic data. A specialized model gives you an additional engine that is trained understand a specific industry's terminology. It's like having a human translator that understands terminology used in legal, automotive, IT, banking, travel, medical and more. This makes the translations more accurate and close to human fluency. 
Choose from our catalog of existing models or train your own with SYSTRAN Model Studio.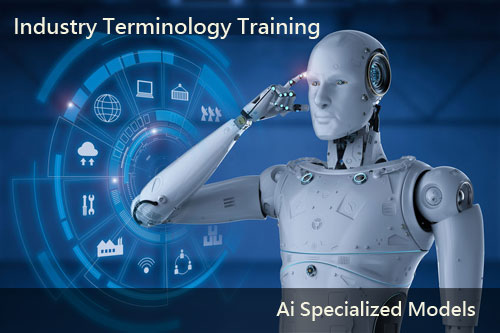 You can automate the translation process by integrating SYSTRAN into your company's workflow. Have your emails or reports automatically translated in multiple languages or translate large amounts of data without the need for manual processing by employees.
SYSTRAN's API kit connects to the corporate server in a straight forward manner, allowing users to translate files, extracted data, text, identify a language, manage translation memories, compile and export dictionaries and more.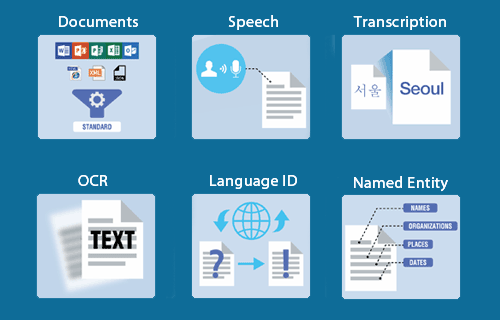 SYSTRAN Enterprise Server Options
 Items below are included automatically in some licenses and others require an additional fee.
Simple browser-based console allows translation without installing on local computer.
Translate directly from Word, Excel, PowerPoint and Outlook Email.
Built in PDF converter and OCR support for scanned documents.
Build dictionaries with your own terminology and automatically grammar rules are applied.
Store previously translated sentences to speed up translations on repetitive texts.
Real-time speech translation or translate audio files with post editing capability.
Select from over 50 languages in 150 combinations with more being added.
Pivot between languages can be supplied if one does not exist or one can be developed.
Translation all incoming and outgoing messages for easy communication globally.
Powerful translation api allows you to integrate our software into any application
Pre-built connectors make it easy to integrate into third-party applications.
User management for larger corporations that deploy throughout the company.
SMPT Email gateway integration for delivery of translated email to the user inbox.
JavaScript widget inserts into  source code to automatically translate your website.
Add-On For IE, Firefox, Chrome, to translate sites as you browse the web.
Data Privacy Compliance with a Secured Solution
Companies and organizations are up against a multitude of new regulations requiring the protection of customer data, as well as the need to secure company information from the growing threats of cyber terrorism.  SYSTRAN provides the security needed to meet these challenges.
SYSTRAN has been the software of choice for over 50 years providing over 30 Federal government agencies in the USA, as well as governments across the globe including; U.S. Department of Defense (DoD), Military, Intelligence Community,  NATO, Europol, French Ministry of Defense, French Ministry of Justice, French Ministry of the lnterior, Swedish Armed Forces and more.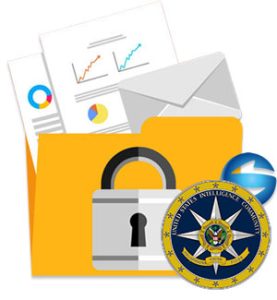 SYSTRAN's On-Premise Server is installed on your internal IS infrastructure, protected by your enterprise firewalls and network insulation for complete control.
SYSTRAN Server has enhanced security functionality, further protecting the application from cyber attacks, malware, DDoS attacks, cross-site scripting and SQL injections.
This secured architecture guarantees data privacy and safety and complies with internal security policies. Confidential information and trade secrets will not leave your company.
Ready To Try Translation Software?