We Provide Outstanding Technical Support
Whether it's a question on how to install the software, or how to translate a document or work with a dictionary, our support team is here to help. We can be reached by phone, email or Skype. We can also offer remote desktop sharing to make the task easy and efficient.
We understand how critical it is to have great support and solving any issues you encounter is our top priority.

813-949-9383
Hours: 8am - 7pm
Monday - Friday
Eastern Standard Time

info@imagiforce.com
We answer all email quickly. We never make you wait.

Handle: imagiforce
Skype is not Monitored, please contact us to set up a session.

Advanced SYSTRAN Support
Request Form:
Create Support Ticket
Remote Desktop Sharing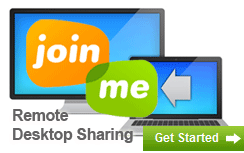 New, Join Me enables fast, easy and secure remote access to a Mac® or PC from any web browser.
This easy to use tool allows us to instantly share our desktop to provide instant demos for customers or allow us to remote into a customer's computer to help with with basic technical issues.
Contact us to set up a session.
SYSTRAN Software Instruction Manuals
New Version 8 Desktop - Online How To Manual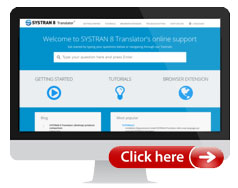 FAQ Support Questions
Installation and Download Issues
The link in my email to download comes up "invalid download key".
First check to see if you received a second email with another link. Sometimes due to our download security the first email will be sent without a serial number, in these cases a second email is sent with the serial number and this email now contains the active link you sould use.
Downloads are available up to 240 hours after purchase, if it is past this time period the link has expired for security reasons. Please contact us by email or phone and we will be help. If you purchased extended download service a link will be sent to redownload.
Software Issues
PDF translates into a blank page.
This can occur for one of the following reasons:
1. Your original document only is a locked document.

2. The original document is not a standard PDF document. You might want to use OCR software on the PDF before translation to convert it to MS Word.
Asian Characters do not display correctly.
Problem:
When translating with the Interactive Translator from English to Chinese, Japanese or Korean, I see black boxes in the translation output.
I don't see Asian characters in Word documents or HTML pages.
Solution:
Asian fonts are not installed on your computer. Go to Control Panel > Regional and Language Options > Languages > Supplemental language Support and check the box labeled "Install files for East Asian languages". (if you do not have your install disk check Microsoft.com for more information)
Remark: Interactive Translator displays a warning message to encourage you to install support for these languages.
SYSTRAN 7 Older Version - How to Manuals
(right click and "save target as" to save on your computer)

You can also access the help section inside the software by clicking on the help icon on the Systran Tool Bar. It is suggested you look at both resources because they can be different on how a specific section is explained.