SYSTRAN Essentials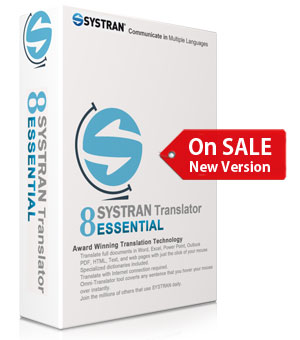 The SYSTRAN Essentials is a translation software that is designed for personal users that need to translate full documents, chat or any type of text. Easy to use, just open a file and click the translate button, in seconds you will have a document that has been fully converted into another language.
Languages Available:
English to/from: Spanish, French, German, Greek, Italian, Portuguese, Swedish, Polish, Dutch, Russian, Japanese, Korean, Chinese, Arabic, Albanian, Bulgarian, Czech, Farsi, Ukrainian, Urdu and more!
NOW ON SALE: $149.00
Additional Language Pairs: $29.00 each

Also See: SYSTRAN Professional Translator
Translate Full Documents with one Click
MS Office – Word, Excel, and PowerPoint,
Translate full documents with just one click and retain formatting! Automatic integration with Word, Excel, and PowerPoint, makes it easy to convert documents into another language.
Convert a full document or you can select a section for translation. No copy and pasting required.
Complete support for Microsoft's desktop version and the new 365 Office.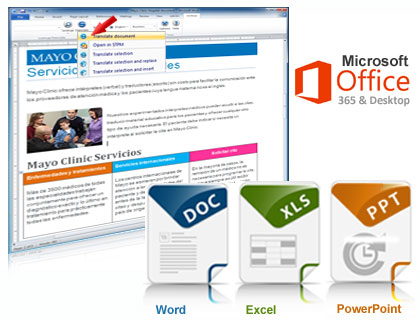 Retain Your Formatting
Designed to retain your formatting even after translation. Translate your documents and automatically the software recreates your document in the target language and keeps the format.
Automatically converts and retains formatting in Word, Excel, and Powerpoint.


Learn more, Click Play to watch the video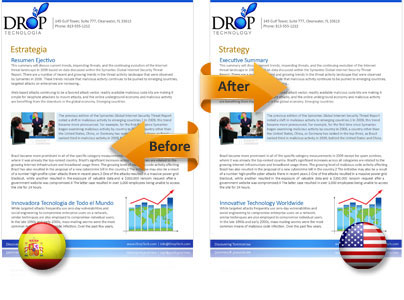 SYSTRAN Interactive Translator
One of the easiest to use tools to instantly translate any text. Type in the left window and the translated text appears automatically in the next window.  You can convert a few words, sentences, paragraphs or translate up to a full page at a time.
Great for chatting back and forth with someone who speaks another language.  The Interactive Translator also allows you to mouse over specific words and see the alternative translations for that term.
The dictionary is located in the third window for easy reference.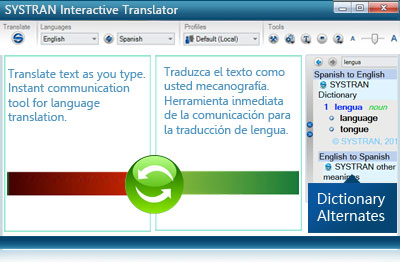 Translate Foreign Language Websites
SYSTRAN plugs directly into your favorite browser so you can easily read foreign language websites. Just navigate to the site and click the translate button once, every page is then translated as you visit additional pages.
Full support for Internet Explorer, Firefox and Google Chrome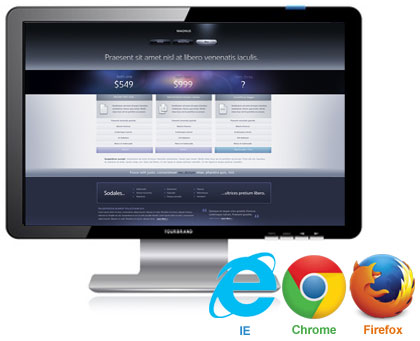 Dictionaries included in SYSTRAN Essentials
The Essentials version gives you a robust language translation dictionary with a focus on general terminology.
Systran's dictionaries are also filled alternate translations to make communication more effective.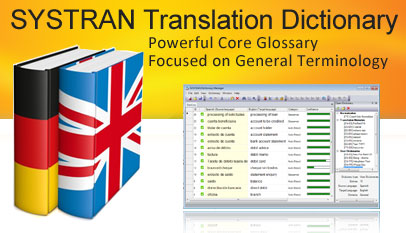 Build a Custom Dictionary
You can control the terms by building 1 additional dictionary with up to 100 terms or phrases. Put in your favorite terms.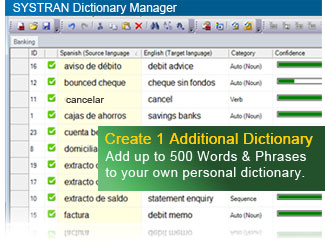 Omni Popup Translation Tool
Hover over any text in and a small popup window will allow you to view the text in the source (orignial language) and target (translated language)
Perfect for understanding menus, text in document from other applications.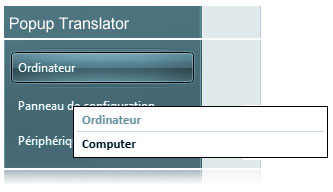 Translate without the Internet
Some translators require an internet connection, not SYSTRAN, it's secure and ready to use from anywhere. Excellent for those who need to travel overseas and communicate in a foreign language.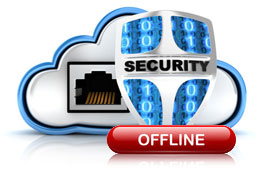 SYSTEM REQUIREMENTS
CPU
Minimum Intel Celeron N2840 2.5 GHz or equivalent. Recommended Intel® Core 3.3 GHz or equivalent
Operating System
Microsoft® Windows 7, 8, or 10 (32 or 64-bit)
Memory
• With 1 language pair: Minimum 1 GB RAM, recommended 2GB (and 500 MB per additional language pair)

• With several language pairs: minimum 2 GB and 500 MB per additional language pair
Microsoft Office
Microsoft® Office® (32 bit) 2007, 2010, 2013, 2016 or an Office 365 Subscription
Hard Drive Space

4 GB for 1 language pair
1 GB each per additional language pair

Web Browser
Microsoft® Internet Explorer® 11, Firefox® or Chrome
Note:

Performance and speed will be enhanced if your computer's processor, memory and available disk space exceed minimum requirements.