---
Italian Translation
Information that will help you Translate Italian
The global market for Italian translation software is projected to continue to grow as the world becomes smaller each year due to the reach of the internet. Many companies are finding that being able to communicate in a foreign language can be a valuable asset when trying to expand into other markets. The cost of being able to communicate though can be extremely expensive. Using software can reduce costs greatly.
There are currently an estimated 65 million people that speak Italian and using software can be an invaluable tool that will allow you to communicate even if you do not know a word of the Italian language. Without software you would need to hire a translator for every document, letter or email that you send. The cost of translating even a one page document can run approximately a dollar a sentence. Translate all your documents, email, pdf, letters or any type of text for one low price.
You can translate Italian to English and vise versa Italian to English with Systran programs. 
Translate full documents in seconds and retain the document's formatting.

Retain the formatting of the document in WORD, Excel, Powerpoint, PDF, Email and more.

Convert Italian to English and English to Italian with the same software package, languages are bidirectional.

Translate as you Type - Instantly translation with the SYSTRAN Interactive Translator.

Emails in Outlook can instantly be translated. You can also use Yahoo, Gmail or any other e-mail client.

No internet connection required. Travel around the world and enjoy using the software anytime, anywhere.

Proof your documents side by side with perfect word alignment. Click on a word in English and instantly it compares the Italian word by lining up the two sentences.

Retain the formatting of tables, images, text highlighting, graphs and more.
Best Software for English and Italian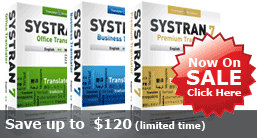 Systran is the leader in Italian translation technology for over three decades. Systran translates the meanings of words and expressions depending upon the context. Systran is not a word for word translation tool, the software is smart and the translations depend on how words are used in a sentence just like a human translator.
SYSTRAN's translation products offer a complete general italian dictionary plus 20 specialized italian dictionaries. Get accurate translations with SYSTRAN. The italian dictionary offers several alternatives for each word and lets you choose the best translation according to the context and subject.

SYSTRAN Demos
We can set up a quick test to show you how to work with translating Italian documents. Learn More