Language Converter
A language converter will help you to translate text from one language into another. 
Language Converter software uses your computer to translate text from one natural language into another. The software will give you the gist of what is being said and with the latest technology you will be able to analyze the text further and increase the accuracy. These tools make Language Conversion much easier and faster than doing it manually. 
(See all Language Converter Software Products)
There are limitations and how well written a document is will affect the translation results. Good punctuation and grammar will increase the accuracy of the translation. Language converters will not  provide 100% accuracy with translations but with many languages you can deliver about 80% and then the remaining 20% will need to be edited. The 80% accuracy level can be increased by adding words to the dictionaries and automation tools in the more professional language translator software packages.
Over the years there have been a number of great advancements in language converter technology.  There are benefits of using software to translate documents is invaluable to large corporations that have the need for translation.  The language converter packages will definitely reduce costs and save time in translating foreign text.
Language Conversion is Easy with Systran Translation Software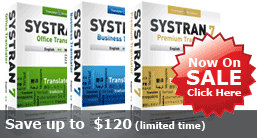 Convert Foreign Languages
Spanish, French, German, Italian, Dutch, Korean, Japanese, Swedish, Italian, Chinese, Russian and Arabic.
Systran has been the leader in translation software development for the past 40 years. Systran actually holds patents for their translation engine so no other language conversion software has these same features.
Learn more about Systran  and which  Language Converter  will best meet your translation needs.

Language Translator - Language Conversion
Convert Emails,  Microsoft Word documents, Power Point, Excel, Internet Explorer and Outlook!
These language conversion products are customizable so you can tailor it to meet your needs, add to the dictionary, create topical glossaries and more.
Best of all this software is very easy to use and has many custom features so it can become even more accurate as you customize it for your style of writing and subject matter. For a complete look at our products and how they can help you with your translation needs visit our home page Translation Software .

See More Information
on Language Translator
Human Translators vs Language Translating Software
Many professional translators use computer aided translation software to speed up the language conversion process. If you have a project that you need translated it is still recommended that you have a human translator or someone that speaks the language to help edit and proof the documents for accuracy. Even with software you will still find the need for human translators. Keep in mind that even with humans you may not get 100% accuracy and you should make sure you have someone that has a good knowledge of both the language and the dialect.
Converting a Language  is easy with SYSTRAN
This language converter can convert documents to and from foreign languages in 3 easy steps. Open your document in Microsoft Word, select the language and select translate. It is easy and fast with the software!
Whether you are an individual or a business who wants to convert documents from one language into another, you will find automating the process with software is faster and easier than ever before. You can convert over 28 languages including Spanish, French, German, Japanese, Chinese, Polish, Italian, Brazilian Portuguese, European Portuguese, Arabic, Russian, Swedish, Dutch (Flemish), Korean.
You can further increase the accuracy of the translation by building your own customer specific dictionary with your own terminology.  
Convert Foreign Language Documents with Microsoft Office in Seconds

Once you have installed the software, you will find that your programs, such as Microsoft Word,  Excel, Powerpoint, Internet Explorer, and Outlook email, all have a button located on the top of your tool bar that lets you convert a language instantly. 
Systran Translation Software has powerful Language conversion capabilities which retain the original document layouts, text highlighting, font styles, graphics and tables.