---
How to Translate Word Documents from English to Spanish Instantly
Want to translate Microsoft Word documents from English to Spanish in a few seconds? With Systran's translation software you can convert small or large documents files with the click of your mouse while retaining the original formatting.
Simply stated, interpreting of language is done orally, while translation of language is done in writing. If you are going to be having a conversation with someone who speaks another language, then you need the services of an interpreter. If you want to have a written document converted into another language, then you need the services of a translator or software.
Easy Word Document Translation, Now Hassle - Free with SYSTRAN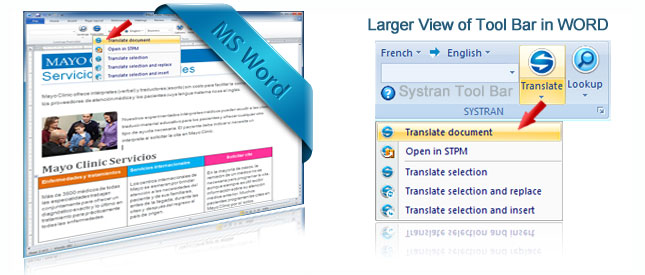 If you are looking for an "EASY" button to translate your foreign language documents, you just found it!
The Systran software can help you translate Microsoft Word documents from English to Spanish in no time. You no longer have to worry about not understanding the content of a document, with Systran you can easily translate full documents into your own language. The Systran document translator does all that work for you, and the result is an accessible document translated accurately into Spanish.
The Ideal Translation Solution for Your English Documents
In contrast to interpreters, translators are skilled at converting written text from one language into another. Translators work on documents which can vary in size from a simple e-mail message to an entire book. Generally a translator will read the material they will be translating and then sit and translate it into the secondary language. Human translators must have excellent writing and editing skills because their end-result documents should always be as perfect as possible.
Translation involves a lot more than simply replacing a word in one language with a word from another language. Translators must understand what was written and manipulate sentences and ideas to ensure that the resulting document conveys the same information as the source document did. Translators are also tasked with understanding cultural differences and references and making sure the new document is understood by the readers.
Translate Word Documents from English to Spanish in 3 Easy Steps
The success of a business is determined by its efficient communication with partners worldwide. With the Systran document translator, you can translate Spanish to English documents easily and in 3 simple steps: locate the file, right click to translate and choose the language. Document translation has never been easier!