---
Language Conversion Software
Convert MS Word Documents, PDF Files, Excel, Power Point, Outlook Emails, Full Websites, and more. Easy to use language conversion software from Systran that converts the most popular language pairs and provides you with the highest level of accuracy available!
Languages you can convert with SYSTRAN:
Spanish
French
German
Italian
Japanese
Korean
Russian
Arabic
Swedish
Dutch
Polish
Greek
Portuguese
Simplified Chinese
And Many More!
SYSTRAN Language Conversion Software Packages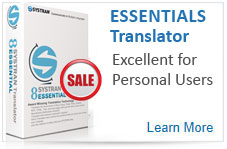 Systran Business Translator (Full Version)
Includes advanced tools for more accurate translations.
Translate large files, build additional dictionaries, built in spell check, alternate meanings and more. Easy-to-use translation tool for the daily multilingual needs of small businesses.
Translate: Microsoft Office (Word, Excel, Powerpoint)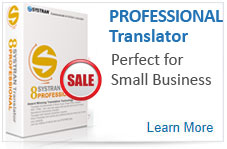 Systran Premium Translator (Full Version)
Higher Accuracy with Premium Version!
All the features in the Business version plus advanced tools that allow you to train the tool for increased productivity and accuracy. Iincludes 21 additional technical glossaries with millions of words, phrases and industry specific terms. Example: Computers, Financial, Automotive, Legal, Engineering and more.
Translate: Microsoft Office (Word, Excel, Powerpoint, Outlook), and PDF files.
Price starts at $249.00

What is Language Conversion?
Language conversion, also referred to as translation, is becoming a necessity for many companies as the world moves toward a more global economy. With the international reach of the world wide web, many companies are suddenly trying to figure out how to reach customers that do not speak the same language.
In the past the only solution was hiring a professional translator and sometimes waiting days for a translation to be completed. Although this method can be very accurate, it is also very time-consuming and also expensive. The average cost for having a human translator translate an email ranges from $50.00 to $90.00. Our language conversion software starts from as low as $89 and you can translate as many emails and documents as you need.
There is also the time issue. You can't haved customers waiting days for a reply, not in today's marketplace. Think how you would feel if you emailed a company and they did not respond for days.
Also, what if the email you just spent money on to translate turned out to be a business prospect that you are not interested in working with? These are all factors to consider when you're looking for a professional translator solution.
How Good is it?
Each year language conversion software continues develop cutting-edge technology that can save you even more time and money. In the past three years there has been a dramatic increase in the accuracy level that translation tools can deliver.
This can be an extremely useful tool to reduce costs and improve productivity. Just the fact you can take a document and translate it in seconds to give you the gist of what is being said is nothing less than a technological miracle.
Additional tools to Increase Accuracy
Systran provides additional tools and filters that allow you to train and control the software. Higher accuracy can be attained by adding your own specific terms to custom dictionaries. You can add phrases and complete sentences to the translation memory to reduce repetative editing and typing. The ability to customize the tool to be more accurate makes it even more invaluable to so many companies worldwide.
Advanced Translation Tools:
Create your own custom dictionaries
Set Terms as Do Not Translate

Multiple Dialects
See the Alternate Meanings
Automatic Translation Memory Builder
Translation Memory
Statistical Translations
Side by Side Alignment
Spell Check
Additional Industry Specific Dictionaries
Language Conversion Software by Systran that is Powerful and Reliable
SYSTRAN has been developing language technology for over 40 years and is the no. #1 choice for the most recognized companies worldwide such as Ford, Adobe, Microsoft and more.
Go through our products and choose the one that best meets your needs.
Language Conversion Software is available in 128 pairs: English - Spanish - French - Japanese - German - Portuguese - Italian - Korean - Chinese - Dutch - Arabic - Dutch - Swedish - Russian- Greek and more!