---
Computer Forensics Translation Tools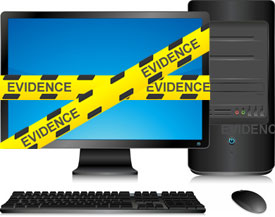 Understanding Computer Forensics
Computers are usually seized during an investigation, they can contain files which might prove to be incriminating.
Computer forensics, also known as digital forensics, is a growing field in criminal justice that pertains to the legal evidence found on computers and digital storage devices.
Since many illegal transactions can leave a digital trail, investigators will be able to research online web browsing history, cell phone text messages, chat logs, email or any digital files.
Law enforcement officials can be faced with gigabytes of data that needs to be searched and analyzed.
Translating Data for Computer Forensics
Multilingual content can provide an additional challenge for investigators. Investigators will need to search the data in a foreign language and then translate any suspicious content that is discovered.
Translation software is heavily used by computer forensics teams during the data recovery process. By applying a translation program, the investigator will be able to search, read and understand the multilingual content of the files, and then show detectives the results.
With data recovery language translation, law officers and detectives will be able to add terminology to specific dictionaries that will color code specific translated words or phrases, helping not only in investigations, but also in the ediscovery legal process.
Systran Translation Software in Digital Forensics
With the use of Systran translation software, investigators can begin their criminal investigation as quickly as the translation occurs. The data recovery and language translation may take a few minutes, which can make the difference between finding a criminal and losing them in the crowd.
In addition, computers can hold massive amounts of information which might take a human translator days or weeks to read – not the best use of time during an investigation.
Systran Server can provide automated translation with an API that can be programed to automatically search and translate gigabytes of data.
Systran and Computer Forensics for Criminal Investigations
With Systran software, digital forensics teams can use translation tools to:
Review larger amounts of multilingual digital files, translating and understanding the content quickly.
Save money as human translators are needed less often.
Translate massive amounts of data in a short period of time.
Customize translations to understand and look for unusual terminology
Popular Pages
Learn more about Systran Enterprise Products
Learn more about Systran's API
Experienced in Helping You Find the Right Solution
Companies, Governments, and Law Enforcement agencies (including the FBI, CIA, NSA) around the world are using translation tools for computer forensics. Let us help you set up the right system for your needs, utilizing our experience in deploying solutions for the industy and language translation.
Pricing: There are many combinations and price ranges depending upon the license selected and the languages required. Contact us for a quote today! Call 1-800-771-9383 / International 813-949-9383 or email sales@imagiforce.com