---
Social Media Monitoring Tools - Language Translation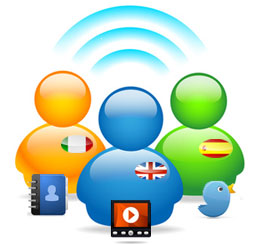 Understanding Social Media Monitoring
Social Networking sites such as Facebook and Twitter receive millions of posts a day from users around the world sharing opinions on everything from politics to products.
Monitoring this data can help companies receive instant feedback from customers and therefore be able to make crucial decisions on how to better market their product or services.
Social media monitoring and brand monitoring is rarely limited to just one country or language. Constant multilingual conversations around the world are changing the way that products are born and developed. 
Since people update their statuses and their profiles daily, social media monitoring is essential for keeping up with the changes in customer tastes and preferences. And even more important is finding complaints or concerns via social media monitoring so as to make sure that crises are managed before they stain a business' reputation.
Challenge of Social Media Content in Foreign Languages
Collecting the online content is just part of the challenge, with our global society many of the social networking posts are in foreign languages.
Many companies now find themselves looking for social media monitoring tools that can collect and analyze the data as well as search and translate it to and from foreign languages.
Using translation (aka machine translation) to monitor social media is not only helpful, but necessary. By looking at the global picture when it comes to brand management and brand promotion, businesses are able to see how their brand fits into localized markets worldwide and whether changes are necessary to promote future growth.
Solutions using Systran's API
Systran Enterprise offers an open API that can easily be integrated with any social media monitoring tool to automatically translate information quickly and accurately. Terminology can be added to multilingual dictionaries to handle specific keywords, phrases, slang, or idioms to allow a higher level of customization.
By using translation software, social media becomes another tool for helping to ensure companies are up to date on the latest conversations among target customer and client groups. Simply ignoring the voices which can not be easily translated on one's own is not an option.
SYSTRAN's Translation and Social Media
Systran, the leader in machine translation technology provides the most powerful tools available to monitor multilingual social media data .
Many larger companies are already using translation tools to:
Track social media trends and topics in any language
Provide brand monitoring reports while maintaining multilingual accuracy
Reduce the translation costs as only certain passages will require human translation 
Experienced in Helping you find the right solution
Social media monitoring not only makes sense, it's now vital for businesses to stay competitive in today's global market.
We specialize in setting up social media monitoring translation solutions for companies worldwide. Let us help you by providing our API expertise in order to help you find a solution for your company and its needs.
Pricing: There are many combinations and price ranges depending upon the license selected and the languages required.