PSA Peugeot Citroën - Case Study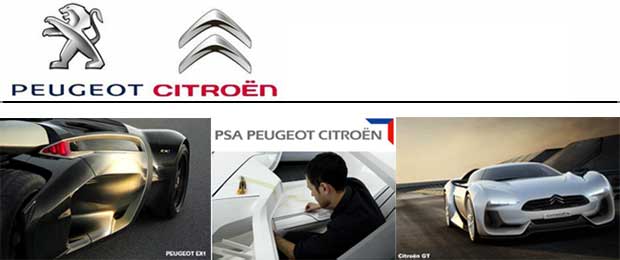 Europe's second-largest car manufacturer
209,000 staff, over 50% of whom are employed outside of France
3.5 million vehicles sold in 2011, 42% of which outside Europe
PSA Peugeot Citroën Accelerates its Global Strategy
PSA Peugeot Citroën, which celebrated its 200th year in business in 2010, is the second largest car manufacturer in Europe. With commercial operations in 160 countries, the group has 16 production sites, including some operated as joint ventures. The group sold over 3.5 million vehicles in 2011, 42% of which outside Europe. Employing over 209,000 staff around the world, PSA Peugeot Citroën is already very global and is looking to pursue its international growth strategy further by targeting 50% sales outside of Europe by 2015. China, Russia and Latin America are priority expansion regions for the Group. The group's globalization is also evident in the area of research and innovation for which it employs 1000 researchers in Latin America and 650 in China.
The Problem
In 2007, PSA Peugeot Citroën launched a new version of its Intranet Portal which needed to be accessible to all employees in the Group, excluding its subsidiaries (Gefco and Faurecia) and dealerships. At launch, the Intranet Portal offered a collection of practical services to find a contact, organize a business trip, use your workstation more effectively and so forth. the Information Systems Director also wanted to include a new addition to these services, namely a tool for understanding foreign languages. This tool should allow employees to instantly translate and understand the range of multilingual content (Power Point presentations, Word or Excel documents, PDFs, e-mail etc.) which would be typically distributed around a large multinational corporation.
A study was carried out to find a translation engine capable of helping employees to communicate more effectively with out jeopardizing the confidentiality of the documents to be translated. It was the latter obligation which immediately rejected the free translation engines available on the web.

Challenges
Provide translation tools customized to the automotive industry supported by robust guarantees in terms of IT security for the 90,000 users of the Group Intranet Portal.

Solution
2 SYSTRAN + Translation Servers
API, User Tools, Application Packs (Word, Excel, PowerPoint, and Outlook Plugins) PDF File Translator

Benefits
Translate in real time and allow multilingual information to be understood without risking confidentiality. Facilitate communication across a global group.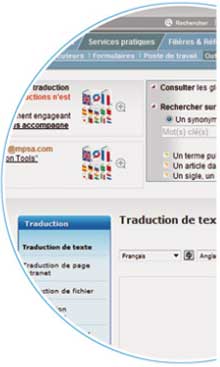 The SYSTRAN Solutions and Applications
PSA Peugeot Citroën chose the SYSTRAN solution in 2008, to integrate translation tools into its Intranet Portal. A special "language tools" page was created to promote the new services offered.
Two SYSTRAN translation servers hosted at PSA Peugeot Citroën ensure continuity of service and manage 17 language Pairs:
French to Dutch, English, German, Greek, Italian, Portuguese and Spanish
English to Chinese, French, Polish, Portuguese, Russian and Spanish
Spanish to English and Portuguese
Portuguese to Spanish
Slovakian to English
Translation quality is assured by four translation profiles (pre selected dictionaries) from which users can choose depending on the type of content to translate, plus a built-in "automotive" French-English dictionary containing 25,000 terms.
The Internet Portal provides the following services to employees at PSA Peugeot Citroën:
Instant text translation
File translation (Word, Excel, PDF, etc.)
Web translation
Dictionary look-up Email translation
Language tool usage in numbers:
3,000 unique visitors daily
50,000 requests daily
Supported by SYSTRAN Enterprise Server 7 User Tools, PSA Peugeot Citroën can save users more time with the SYSTRAN Toolbar which can be downloaded straight into their workstation,directly integrating with Microsoft office applications (Word, Excel, PowerPoint, Outlook) and Internet Explorer and Firefox web browsers.
initially deployed simply to assist comprehension, the language tools are now increasingly used to help produce documents and other languages. To support demand and round out the existing solution, a new service was launched in June 2012: e-mail translation. Due to the often sensitive nature of e-mail messages, the SYSTRAN Servers ensure translation is handled internally, guaranteeing confidentiality in addition to speed.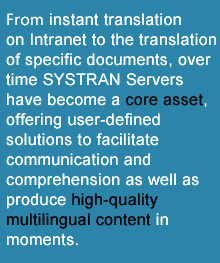 Results and Latest Developments
Since The language tools were launched, demand has continued to rise. The target of 1 million requests per month was exceeded in 2011. Every day, nearly 3000 unique visitors generate 40,000 to 50,000 requests with the tools.
The dictionary service has also proved a resounding success, notching up around 360,000 lookups in 2011(an increase of 112% on 2010).
The success of the Intranet Portal integrated with SYSTRAN tools has prompted the business unit managers to test out SYSTRAN Servers APIs to carry out more specific functions. in 2009, the Quality Department decided to implement a SYSTRAN API to translate into French and English customer incident reports uploaded to the system by dealers worldwide. The French experts in the department are now able to analyze reports received from any country, which in turn helps the company to improve the quality of its vehicles.
The SYSTRAN API has also been deployed to translate technical repair process documentation and 22 languages for the Service and Spare Parts Department which is supported by SYSTRAN Training Server.