Yamagata - Honda Motor Europe - Case Study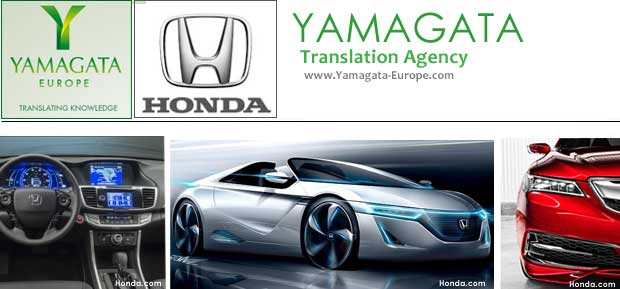 Translation Agency, Documentation Solutions
Cooperation with Honda Motor Europe Since 1999
Number 13 Worldwide, Top 2 in Asia
Honda Motor Europe wanted to gain new insight from its warrant-claim database
Based in the UK, Honda Motor Europe Ltd oversees all the companies European operations, including manufacturing, import and distribution of Honda products. For years, their Product Improvement Center had been managing a warranty-claim database, which contains a lot of valuable quality-related information acquired from all their European dealers. Honda wanted to translate this unstructured content into English with the aim of gaining insight from this untapped database. The challenge was to efficiently mitigate financial risks stemming from recalls and warranty-action costs. By analyzing and better understanding claims, Honda hoped to improve product quality and thus reduce market recalls. Honda also saw an opportunity to accelerate the claim-approval process with its European dealers. From a technical standpoint, Honda considered that Machine Translation was a must for this project.
The Problem: How to translate unstructured text with fast turnaround times?
Yamagata Europe is a documentation-solutions company that has been providing Honda Motor Europe Ltd with translation services for years. Honda asked Yamagata to build a translation solution able to quickly translate the database content into English. As a first step, three languages, accounting for 45% of all warranty issues, were required: German, Italian and Russian.
Honda also set challenging requirements:
Short Turnaround time: two rounds per day
Comprehension target of 85% with constant improvement
Limited budget
To meet Honda's expectations, Yamagata had the idea to implement a semi-automatic translation workflow process. They put three steps in place to cope with the poor quality of the source text (due to unstructured content). With regards to the Translation Software step, once the source text was cleaned up, the engine had to deliver the expected level of quality and curb post-editing tasks. And in this context, "good quality" meant understandable translations. In other words, the most important point was to convey the exact meaning of the source text. To reach their target, Yamagata wanted to leverage its vast translation memories and train MT engine (Machine Translation or Translation Software Engine). To match Honda's business objectives. Hence, using future-proof SYSTRAN technology made a lot of sense.

Challenges
Integrate a translation software engine into a complex workflow process.
Strict Requirements:
Short turnaround time: two rounds per day
Output MT quality (Russian, Italian and German to English) enabling light and automatic post-editing.

Solution
Two SYSTRAN Translation Servers + Expert tools (Dictionary Manager).
One SYSTRAN Training Server.
Professional Services (Training).


Benefits
Real-time translation and understandable information for quick decision-making and analysis.
Enable scalability and continuous improvement of MT output through regular training.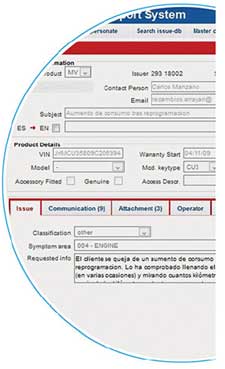 28 Countries, more than 6,300 dealers
3 languages at start, followed by 6 additional
87% understandability
Approx. 6,000 translated words daily
The SYSTRAN Solution
The translation system engineered by Yamagata needed a robust and scalable MT engine to support the automated translation component of the process. Two SYSTRAN Translation servers (including one back-up server) were implemented. They ensure fast translation of the daily content flow coming from Honda warranty Database.
The Dictionary Manager ( a SYSTRAN Expert Tool) helps to build custom terminology dictionaries. By leveraging existing translation memories and glossaries, Yamagata fine-tuned MT output quality through interactive training cycles with a SYSTRAN Training Server. in order to better measure understandability and objectivity demonstrate improvement gains, a new scoring system (< the understandability score >) was also developed on top of the commonly used BLEU score.
Last but not least, SYSTRAN provided training sessions and close technical support to Yamagata's team. Within a few weeks, they became autonomous and now have adequate skills to train the MT engine and build new models by themselves.
Results and Latest Developments
Yamagata's translation system is totally integrated with Honda'sInformation System and delivers on its promises in terms of quality. With a score of 87% understandability, the MT output quality is above the threshold defined by Honda. The training cycles of the MT engine were key for success because they enabled a steady improvement of quality. Consequently, Honda dealers can count on a faster claim-approval process. The Product Improvement Center and even all Honda Worldwide service engineers benefit from more insight for product enhancement.
Currently, the MT engine is regularly retrain to adapt to new glossaries and translation memories. Therefore, Yamagata continues to improve MT output quality. at the same time, Honda has decided to add six new languages to translate more information from the warranty-claim database.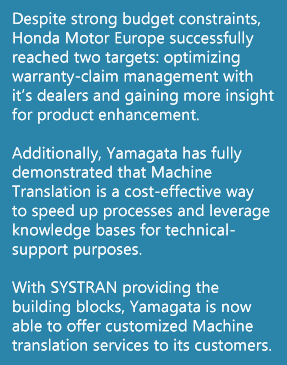 Following the success of this system, another project was launched: a multinlingual chat for immediate technical support. Honda decided to replace the local support service for European dealers with a centralized service center based in the Frankfurt area.
A Web-based communication and chat interface is available to the in-country dealers to facilitate communication with the German support center. They had the idea to leverage the existing MT engine to integrate a translation service within the interface.
Since February 2012, for any critical and complex repair issues, users can request a translation into English or into their native language and get answers in that same language. Other languages in pair with English are currently supported, including Dutch, French, German, Italian, Polish, Portuguese, Russian and Spanish.