---
Technical Translation Software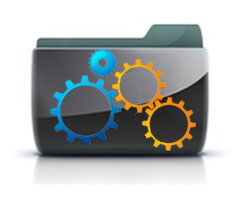 Guide to Technical Translations
Working with technical documents can be challenging. A good technical translator must not only know both the original source language and the target language, but he must also understand the topic and the industry's specific terminology.
The great thing about technical documents is that they are generally very well written, therefore software can give you a higher level of accuracy than other types of documents.
Update: SYSTRAN's Pure Neural MT Provides accurate technical translations!
How good is the accuracy? Close to human. In fact, in a blind study, participants at times rated Pure Neural MT as better than the human. Artificial intelligence (Pure Neural MT) is the best solution for technical translations.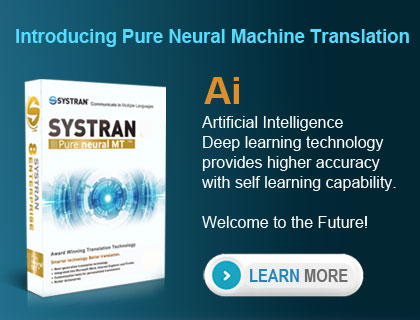 SYSTRAN Desktop products for Technical Translations
SYSTRAN desktop versions can still be very powerful. The SYSTRAN Professional version comes packed with 21 Technical Dictionaries . However, if you need more, SYSTRAN gives you the freedom and flexibility to build your own custom dictionaries with industry specific terminology.
Technical Dictionaries Included
Economics
Electronics
Metallurgy
Mathematics
Earth Sciences
Physics / Atomic Energy
Political Science
Business
Financial
Automotive
Colloquial
Aviation / Space
Naval / Maritime
Military Science
Legal
Medical
Computers / Data
Mechanical / Engineering
Photography / Optics
Food Services
Life Sciences
Build your own Additional Dictionaries
One of the key features of SYSTRAN software is the ability to customize the software to learn your industry or company specific terminology. By building your own dictionaries you can provide consistent translations of terms and phrases, even if you have multiple translators working on the same project.
Build your own Term / Phrase Dictionaries
SYSTRAN's User Dictionary allows you to add your own terms and phrases to multiple dictionaries. The software's Project Manager will even extract a list of the most common terms in your document to make it easy for a human translator to review and make changes where needed. All changes will be saved allowing for more accurate future translations.
Build Translation Memories
SYSTRAN has powerful Translation Memory capabilities. In fact, the software can automatically build a complete translation memory from a previously translated document. This is extremely helpful as it will save you valuable time on future translations.

Do Not Translate Options
There are industry terms that need to be retained exactly as they appear in the original version. SYSTRAN allows you to mark these terms or phrases as a "DNT" or "Do Not Translate" entry in your dictionary so you won't have to worry about accidentally translating them in future documents.
Type of Technical Documents you can Translate with Software
You can use SYSTRAN to translate just about any type of technical documents. While the level is accuracy is higher than for other type of documents, it also varies depending upon the document and how it will be used after it's translated.
Excellent for:
Technical manuals and User Guides
Tender Documents
Technical training material
Provide multilingual information within your company
Patents and competitive research
If you are working with critical documents, you will still require human translators to review and possibly edit your documents. Learn more about how to effectively use software in your workflow, the accuracy level of software and top ways to use translation software to save money.
Experienced in Helping find Solutions
We specialize in finding the right solutions for companies who are looking for cost-effective ways to work with multilingual documents. We will be happy to supply a quote or you can schedule a FREE live demonstration to see the software in action.